Online Seminar on the Gendered Impacts of the COVID-19 Pandemic
The seminar took place on 18 December 2020.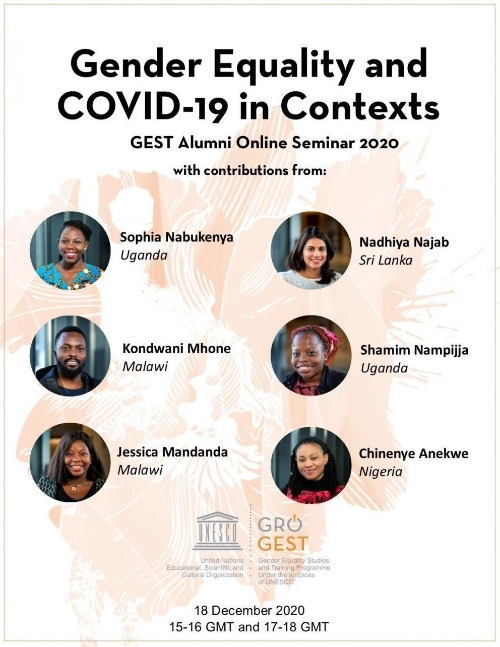 The COVID-19 pandemic has had substantial implications for gender equality, both during the initial shockwave but also during current times as communities and individuals adapt to risk-mitigating measures and restrictions. Not only has the pandemic had a huge impact on sectors with high levels of female employment, but the closures of daycare centers and schools have been disastrous for many working mothers around the world. In addition, increasing levels of domestic violence appear as a likely consequence of the quarantine measures implemented in response to the pandemic. The flexible work arrangements offered in many places in the wake of COVID-19 will persist and could have a positive impact on gender equality down the road. The same goes for fathers, who might now have been taking part in primary caretaking responsibilities during lockdown and restrictions, and whose experience might help change social norms of masculinity and men's role in the family.
However, due to the recent nature of the pandemic, some of these predictions are bound to be built on insufficient data, while others remain conjecture. Moreover, the gendered impacts of COVID-19 are diverse depending on specific socio-economic conditions in different localized and national contexts. Consequently, the continued documentation and transnational comparison of the gendered impact of the COVID-19 pandemic remains important not just for understanding the crisis as it currently unfolds, but for scholars and activists who wish to understand the pandemic in a historical context, years from now.
Therefore, the GEST programme issued a call for GEST alumni to contribute their expertise on gender issues in their local contexts to an online seminar hosted by the GEST programme. The seminar took place on 18 December 2020. The purpose of the online seminar was to record and document a historical snapshot of the gendered impact of the COVID-19 pandemic as it unfolded in different national contexts. Six alumni from six different countries were selected for this task. Each alum carried out semi-extensive short-term research work on the topic and presented their findings during a 15 minutes long presentation at the online seminar in December. Their findings were submitted to a report, edited, and published by GEST.