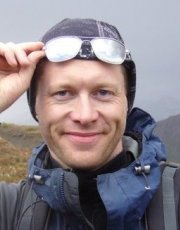 Lecturer
Gudmundur Ingi Gudbrandsson
MSc
Ministry for the Environment and Natural Resources
Short Bio
Guðmundur Ingi Guðbrandsson became the Minister for the Environment and Natural Resources in December 2017. Before that, he was the CEO of the environmental NGO Landvernd, since 2011.
Guðmundur Ingi (Mummi) holds a B.Sc. degree in Biology from University of Iceland and M.Sc in Environmental Management from Yale University. He used to work for the University of Iceland carrying out research in Ecology and Environmental Sciences, and he also worked for the Soil Conservation Service of Iceland in the fields of global studies and research. Since 2006, Mummi has been a visiting lecturer at the University of Iceland, as well as the Agricultural University of Iceland (since 2009) and the University Centre of the Westfjords (since 2011). Mummi has also worked as a Park Ranger every summer since 2009.
Mummi was one of the founders of the Icelandic Society for Environmental Scientists. He was the association's first president, in 2007-2010.
Education
MSc, Environmental Management, Yale University
BSc, Biology, University of Iceland
Organisation
Ministry for the Environment and Natural Resources