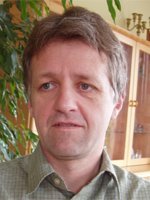 Staff
Steingrimur Jonsson
PhD
Iceland
Short Bio
Doctor of science with a focus on physical oceanography from the University of Bergen, Norway in 1990. Steingrimur has also studied at the State University of New York at Binghampton,
and studied geophysics at University of Copenhagen in Denmark.


Dr. Steingrímur Jónsson's recearch centers around issues related to general oceanography of the seas around Iceland, including the effect of oceanic conditions on biological resources, climate variability and their effects, ocean currents around Iceland and their variability, and oceanography of Icelandic fjords.
Education
PhD, , University of Akureyri,