UNU-GTP Fellow Kunzes Dolma from India is awarded the US WING award for courage
At the GRC Annual Meeting on September 15-18, UNU-GTP Fellow Kunzes Dolma from India was awarded the US WING award for courage.

WING (Women in Geothermal) which is a global network that aims to promote the education, professional development, and advancement of women in the geothermal community.  As in most STEM fields, the geothermal sector is generally male-dominated and therefore, in the interest of gender equality and support to SDG 5, it is important to support women who enter the sector.  WING was founded at GRC (Geothermal Research Council) in 2013 and has now become an international association located in 48 countries around the world. 
One of the main supportive actions of WING is the acknowledgement of people who make a difference through the U.S. WING Awards.  This year four people received this prominent recognition for representing WING's core values: Courage, Empower, Open, and Caring.  Their drive for gender equality and enthusiasm for their field is inspiring for others both inside and outside of the geothermal environment.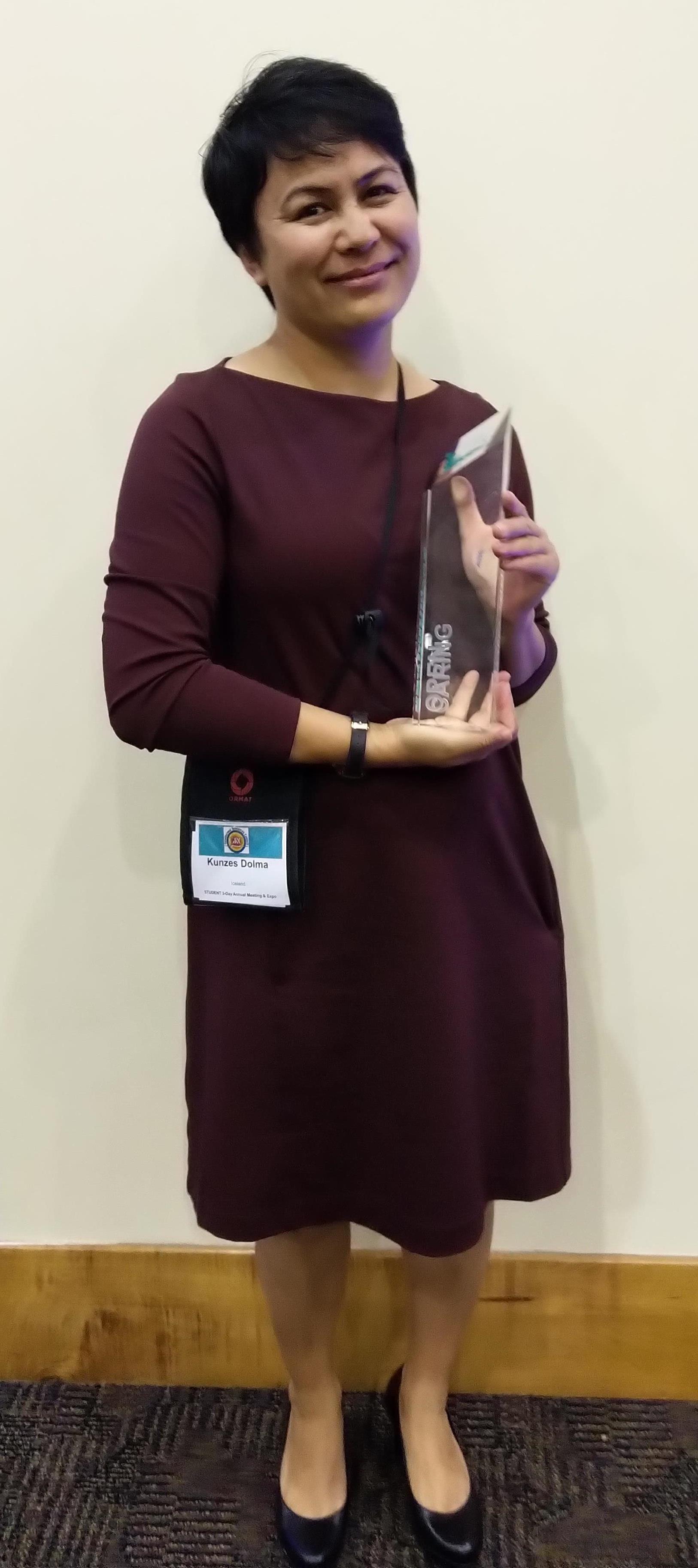 The award recipient of this year's award for courage was our own UNU-GTP fellow from Ladakh in India, Kunzes Dolma.  Kunzes comes from Ladakh, which is the most northern and remote territories in India.  It is situated in the Himalayan mountain range at an elevation of 3500 metres above sea level.  In her region, the participation of women in STEM is still very limited and Kunzes has had to overcome many obstacles in her career as well as from the start in her university studies.  When signing up for a Bachelors in Mechanical Engineering, some efforts were tried to divert her interests towards Civil Engineering which was considered more "suitable for women".  Nonetheless, Kunzes signed up as one of two women in a class of almost 100 male students in Mechanical Engineering and now she is the only female mechanical engineer in her company.  She was the first woman from India to receive a Fellowship for the Six Month Training as well as a MSc Fellowship at UNU-GTP.  She is also a member of Ladakh Science Foundation where she encourages females to engage in STEM fields and to raise their voices for gender equality.  Through her career as one of the very few women working in a male-dominated field as well as being active in fieldwork within the energy sector, she has to face a lot of challenges.  
Despite the adversities, Kunzes has maintained her enthusiasm for making a difference in her country by striving to provide her country people with renewable and environmentally friendly energy development.  During her UNU-GTP MSc studies at Reykjavík University, she has strived to gather as much knowledge as possible so she can make a difference in the energy development of her region as well as in the geothermal energy policy of her country.  To achieve all the above takes courage!  Kunzes Dolma is therefore very deserving of being recognised by the US WING Awards for her courage in enabling women from adverse areas to achieve their goals and never give up. 
UNU-GTP are very proud of her achievement and congratulates her on this recognition.  
For video of the award ceremony and more photos, visit our Facebook page!