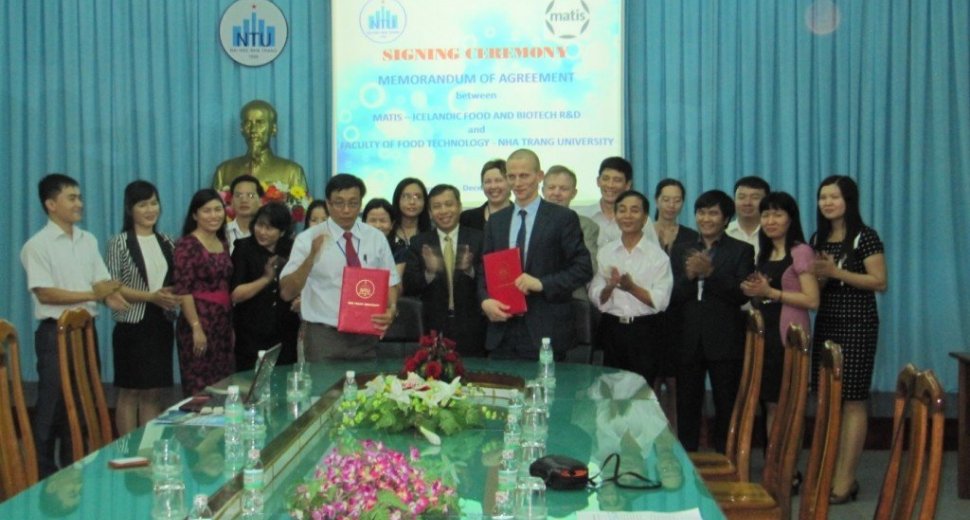 The conference was held in Nha Trang University 9th and 10th of December and it was about utilization of raw materials and by-products in the fish processing industry: opportunities and challenges. Full title of the conference: Conference on utilization of raw materials and by-products in fish processing industries: Opportunities and Challenges.
Description
Those who held a presentation on behalf of the Icelandic delegation were Dr. Sveinn Margerisson, from Matis-Icelandic Food and Biotech Research and Development. Dr. Margeirsosn's presentation was about utilization of Marine resources for a sustainable bio economy. Matis works closely with stakeholders throughout the entire marine value chain, covering all aspects of the food production and biotechnology and has strong relations with both academia and industry. Matis is proud of its collaboration with the United Nations University-Fisheries Training Program (UNU-FTP) and is looking forward to more collaboration with Nha Trang University in Vietnam. Mr. Sigurjón Arason, chief engineer at Matis and professor at the University of Iceland talked about the Icelandic fisheries research production of value-added fish products out of raw materials and by-products.
In all, the UNU-FTP has sponsored twenty one fellows from Vietnam to participate in the UNU fisheries training programme since 1998 and eleven of them work for Nha Trang Univeristy and have specialised in Quality Control specialist line which is run in a co-operation with Matis. Two of these fellows have continued to complete a PhD in Iceland with UNU-FTP support. Nha Trang University has also worked with the UNU-FTP on the development and delivery of short courses since 2005, and plans to continue this collaboration in the near future.
During this visit, Nha Trang University signed an MoU with Matis regarding their future collaboration.